Blue Marlin – a luxury hut hand built throughout by our own craftsmen, taking the classic Shepherds Hut concept and adding luxury beyond imagination.
Set in a unique 'off-shore' island location, Blue Marlin offers everything we could think of that would make your stay with us the most enjoyable it could be . . .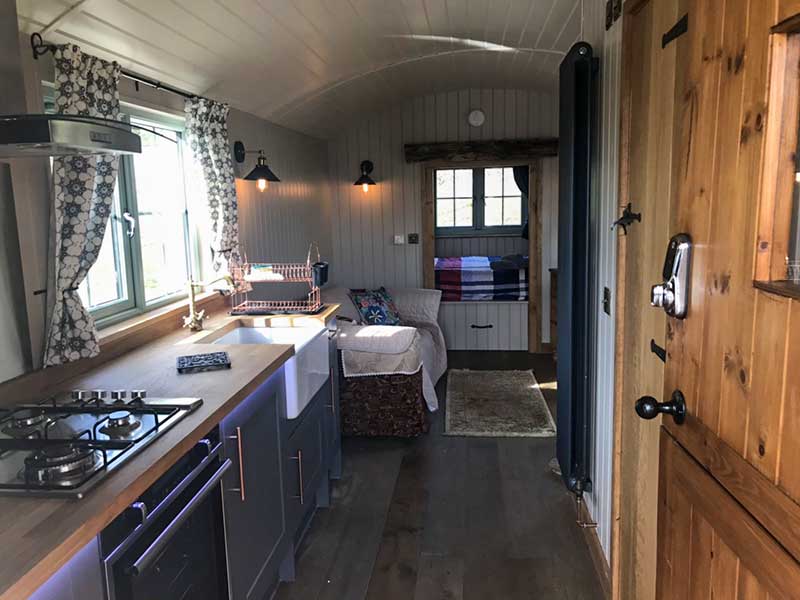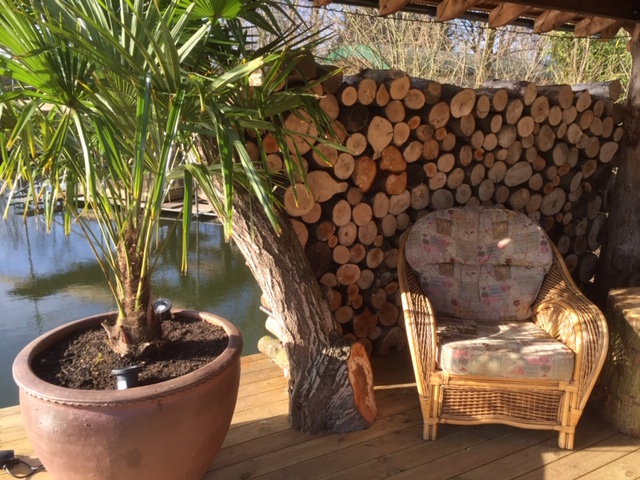 Some of the luxury included with Blue Marlin includes . . . 
Full Gas Central Heating
Log Burning Fire
King Size Bed
Luxury Bathroom 900×900 shower with sink and toilet
Built in Cooker with Gas Hob
Microwave
Fridge (no freezer in property)
TV with Freeview
Plenty of sockets to recharge your electrical devices
Incredible covered outdoor seating location, gas fire pit and adjacent hot tub
All Towels and Linens provided although you may wish to bring extra towels with you for your use in the hot tub.
The Blue Marlin HotTub for the use by Blue Marlin guests only – no sharing!. (Please be aware in the interest of hygiene there are occasions when our hot tubs will need to be completely emptied and refilled with water. Our hot tubs automatically revert back to their factory settings when emptied and it can take several hours for the water therein to reach the required temperature. This may mean your hot tub may not be ready for use on the day of your arrival.)
Parking space beside the Hut.
As of 10/04/2019 we will no longer be supplying charcoal, lighters etc for use with our barbecues. 
£145 per night with a minimum of 2 nights stay. £50.00 refundable damage deposit.
#Special offer for October 20% off accommodation for the following dates – 
Sunday 27th October – Thursday 31st October (Min 2 night stay between these dates).Now £116.00 per night.
#Any available dates throughout November 2019 now with 10% discount. 2 Night minimum stay now £261.00 plus £50.00 refundable damage deposit#
#To celebrate our fourth anniversary we are reducing our seasonal nightly rate to £95.00 per night for the following months December 2019, January and February 2020. This matches the nightly rate for when we first started letting Golden Orfe!. The offer will run from Sunday 1st December to Saturday 29th February 2020 but will exclude the dates Monday 23rd December to Friday 1st January 2020#
Please note that accommodation at Wispy Meadows is only available to over 18's we are unable to accept babies, infants or children under the age of eighteen. Should you have guests come and visit you during your stay the same conditions will also apply. 
Gas bottles for the fire pit at Blue Marlin are available for £25.00 each and can be installed ready for your arrival. Please contact Jo or Lynda in the office prior to your arrival.
Blue Marlin dates already booked are shown below – if you wish to book another night or nights in Blue Marlin then do please get in touch!
Blue Marlin Availability